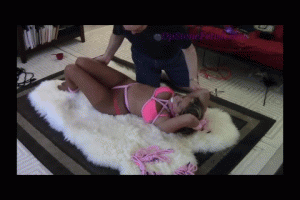 12 photos; 9:36 video
Nikki Brooks - A Return to Pretty in Pink (Pt.1)
Nikki, was now flat on her back, and dealing with the single and dual headed pinwheels. She was trying her best to stifle her snorting laughs, but she was having very little luck with doing so, as I brought the pinwheels along her belly, and her breasts. She was drooling slightly, until I started ticking her feet directly, of course I found out that once I tore aside the pantyhose, that having direct access to her skin was so much better, and when I used the pinwheels upon the soles of her feet she was mumbling out louder through the gag between her lips.
Nikki, was hoping that the pantyhose would have lasted the entire portion of the shoot, but I insisted on tearing them apart, and off her legs. When I finally did drop the pinwheel I turned her over to my fingernails, and this had an even greater effect when I next started using the dual headed pinwheel upon her buttocks, and the soles of her feet. I might have to see what happens when a 5 headed pinwheel is used.
This set features, Rope Bondage, Fingernails, Single Pinwheel, Dual Pinwheel, Feather Tickler, Rose, XXXX, Hand Spanking, and Domination.