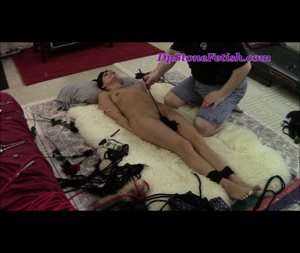 11:31 video
Well this was the end of Unique's first Challenge, and she was indeed surprised when I offered her some Feather Ticklers instead of using the Pinwheels. The Starburst Feather Tickler made quick work of her, as she was giggling from the effects of the Ticklers, and enjoying the feeling against her skin.
I did give Unique, a chance to finally get freed of her last knots of rope, and she was indeed surprised with how the ropes seemed to just double over onto themselves. When I started using the Flogger to increase her speed, she was truly stuck.
To end the set, I let Unique, have some time with the new Wireless Hitachi.