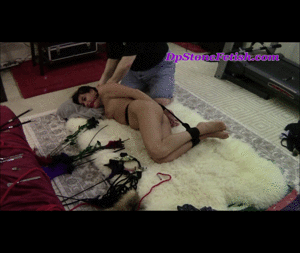 11:06 video
Unique, was indeed one of those rare models, that was too small for the Ball Gag, that I tried first, and then I quickly found out that the Red Ball Gag was a much better fit for her. The Hogtie, was indeed ready now and her Escape Challenge was indeed off to a good start.
Unique, was really working at the Hogtie, kept slipping off Zone Zero, in this case the Sheepskin Rug, and when I started using my Fingernails upon her skin she soon started breaking out with some playful laughs. I did try a pair of Clover Nipple Clamps on her, she was unable to take those with the Escape Challenge, so we decided to save those for later.
Well when the time elapsed on the Escape Challenge, Unique was not anywhere close to getting freed, so in this case she ended up loosing her Challenge.