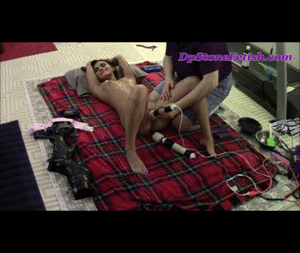 14 photos; 13:59 video
Lucy, was really struggling to determine which Hitachi was really working for her, so of course in the best traditions of Stone Fetish, we decided to do a more detailed testing with both the Hitachi's. First was the Older Hitachi, and I could see that she was indeed very pleased with that device. Of course it was interesting that her belly gave a playful rumble when I took the device away.
It was then time to bring out the New Hitachi, and of course seeing Lucy's reaction she was indeed lost in her decision on which one really worked the better for her. Well perhaps more testing in the future?
Though Lucy, seemed to have her favorite, I wasn't about to just let her decision go without a little more testing being done to ensure a fair testing/playing field.