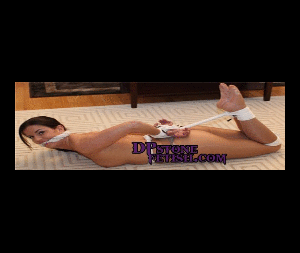 11:09 video
Lucy, was making very good headway with the Silken Tie Challenge, as she was trying to work on the knots at her wrists so that she could simply work her way down towards the next locking knot, and soon she was indeed showing that she was able to successfully navigate this challenge.
One of the things that impressed, was that even with the Micro Foam Tape, Lucy, was still trying to use her teeth on the rope knot about her wrists, that was indeed impressive, as soon I did have to assist her in the removal of the remaining ropes/binds as she was unable to complete the challenge at this point.
It was now time for Lucy's massaging time, and she seemed most happy with that path for the rest of the shooting time.