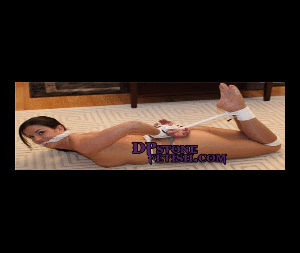 7 photos; 11:22 video
Lucy, was now getting the dual effects of a pair of Hitachi's, it's not too often that I use the pair of them together, but this truly seemed like a good opportunity with the Clover Clamps upon her Nipples, along with the dual Hitachi's and soon Lucy was thrusting back, and forth upon the red blanket.
There are times with a special model like Lucy, that you don't just think there are ever enough methods or manners that you can find to tie her up, so this time I added some of the Silken Ties, again these are items that I don't use very often, but on her they just seemed to be the perfect item to add.
Very soon, Lucy, was being explained about the rules for the upcoming Silken Tie Challenge.