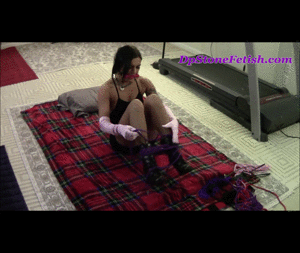 11:48 video
Lucy, really worked hard to get out of the Escape Challenge, and even though she had one moment of indecision. She was able to make sure that she eventually bested the Challenge. Next it was time for a bit of a reward, some Edging with the Hitachi with her just wearing her pantyhose as she had truly established a no "panties" needed for the day.
While the Hitachi was working it's magic, I also made she that Lucy's breasts were getting some attentions as well. She was still wearing her pink gloves, and of course a big smile.
When I remembered that there was something that I had left out of reach Lucy, took advantage, to once more use the Hitachi on herself while her wrists were bound, and she was tape gagged with the Micro Foam tape.