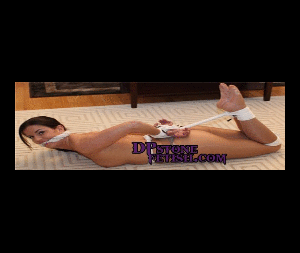 15 photos; 11:48 video
When Lucy, was rolled onto her belly, the Hogtie was very much taking shape at this point, wrists, ankles, waist cinching were all in place, as I was trying to determine if I had missed anything, and I did find out that I was missing a few things. I figured that I must be slipping.
As Lucy, had so many darker colors, I decided to add the Pink Silicon Bit gag, along with a Red crotch rope, which would also serve to cinch her wrists to the waist knot, and ensuring that this was a snug Hogtie.
When the Escape Challenge started, I could see that Lucy wasn't making much headway.