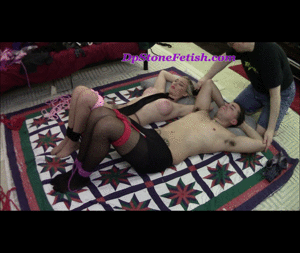 13 photos; 10:37 video
Both Zoey and Richard, were quite relaxed after the inital bondage binds, as they were both getting a chance to experience the Sensual Massage time, that Kelly Moore had explained to them, it was interesting to see that they took to this aspect of the shooting time, as few rookies to Stone Fetish, have in the past. I was trying to make sure to keep the stimulations happening to both of them at the same time, it was indeed a unique experience for the Producer as well.
It was going to be interesting to get them both into a Hogtie, however; before doing so I had to see how both Zoey along with Richard handled the Riding Crop on their feet, and of course on the bottom.