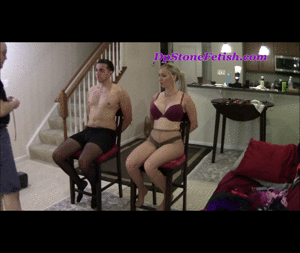 10:10 video
As this set was being prepared, Zoey, was being prepared for the Power Dampener, it is a device that stops those SSH super heroines from letting their powers "explode" so to speak, so I made sure that the Dampener was in place, before starting anything with her, while at the same time Richard, being new to the SSH heroes, he was just provided with the regular Stone Fetish Charm, while he was bound and gagged into the chair bind, the Micro Foam tape, is always a good place to start, and Zoey made sure that he was indeed stuck in the chair.
Richard, was wondering why he had to be bound and gagged, while Zoey, was put through some Sensation Time, as she had never experienced this previously, it was indeed a good place to start with her, and she soon revealed some of her tickling spots.
Pretty soon it was time to start putting Zoey into some matching binds as Richard, her ankles were bound first, as I worked up along her body to find her zones, while she was trying to negotiate her position, as being given a early start at getting free for the Escape Challenge.