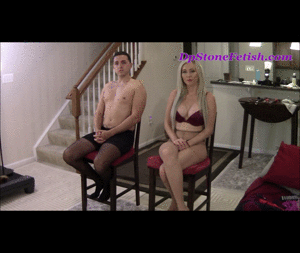 11 photos; 11:44 video
This was a year of first with all that took place in 2020, it was indeed a first for Stone Fetish, inviting a couple to enjoy some fetish, bondage, and of course sensual time which was something that they wanted to experience together. They were recommended to Stone Fetish, Mistress Kelly Moore, so in this case Richard, and Zoey Moore were first asked what brought them to Stone Fetish. They had some unique answers, and so welcome to a new time with Stone Fetish in which the couple was most welcome to the Studio.
So Zoey, was already willing to let Richard take all the punishments that were in store for the pair, and first I started her out with putting her hair into a ponytail. Preparing them for the upcoming adventures that were in store for them both.
The one thing that you'll see for both of them, is that they were willing to share in all that was upcoming.