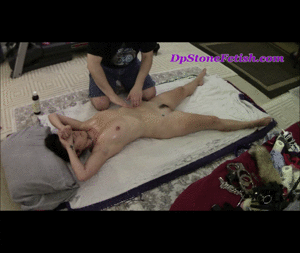 13 photos; 11:11 video
The Sensual massage is indeed one of the more relaxed sets that can be done during a visit with Stone Fetish, and Kelly was indeed quite relaxed at this point. After having applied the Grape Seed oil, it was time for the Candle Wax.
Kelly, handles the Candle Wax as well as anyone, even she was unable to stay still as I was applying more of the wax than I usually did with her, and soon her chest along with her belly was covered in a nice layer of wax.
After the waxing time, along with the clean up, I next applied the heavy Stone Fetish Flogger, to Kelly's bottom along with her feet. I had her holding a new position which truly provided much better access to her feet.