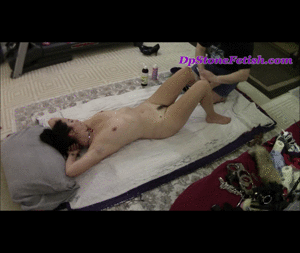 11:44 video
At this stage, Kelly had been dealing with a mixture of harder and softer sides, but now I asked her if she would mind if I shaved her underarms, legs, and she actually was happy to have my doing so as she wouldn't need to deal with it. So at that point I brought out the razor along with the cream and cleaned her up.
In addition to the shaving for Kelly, I also started her out with an all over body massage, as I figured that I had been using the harder side of Stone Fetish a little more so, that the softer side, in this case the body massage would be well received.
By the time I started shaving her other leg, Kelly had forgotten about the floggers, crops, and hand spanking.