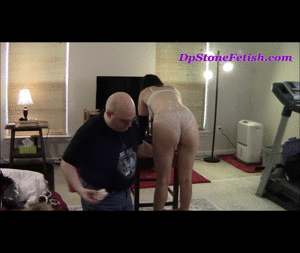 8 photos; 11:08 video
Kelly, was started out with the Horse Brush, as it's been called, but it's really a brush, that grazes the skin, and causes many sensations on it's own. When I next moved to the flogger, she was swaying from side to side, and soon she was tasked with holding the flogger between her teeth. This is always a good task. As I was varying the sensations from the brush to the fox tail, again her eyes were tightly closed, and she was swaying slowly.
It was time for an Escape Challenge, for Kelly, as she usually likes to test herself as early as she can during a time at the Studio, so I added red ropes about her ankles, wrists, and a pink silicon bit gag between her lips.
As you will see Kelly, knows her way around my ropes.