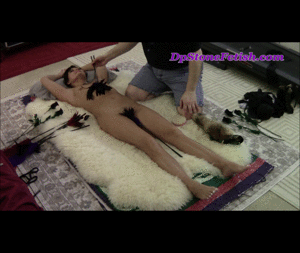 11:26 video
Unique, was really doing her best to handle all the feather ticklers, as I was later to find out, she's not a fan of tickling so this was indeed a hard set on her. Here I thought the candle wax later in the day would be hard for her, but that was nothing compared to the tickling.
When I next instructed Unique, to roll over onto her belly, I was using the ropes this time as Sesnation items, and it was indeed amazing to watch how her bottom would react to the passing by of the ropes along with the ends.
With Unique, having lost her first challenge I was figuring that this would be a good time to provide her another opportunity for a challenge, but of course not before I first used another round of fingernails.