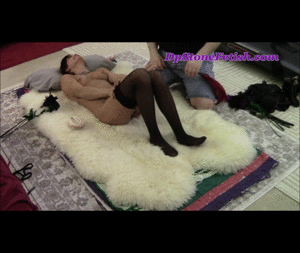 13:01 video
Unique, was now being put through another sensation play item, called "fingernails" it's amazing sometimes how just the fingernails alone can elict more responses than even the pinwheels. When I was bringing my fingernails over her upper arms, belly, and legs she was struggling to maintain her place on the Sheepskin rug.
Unique, whom was now nude, was dealing iwth more sensations, as I was using multi-feathers upon her body, and especially between her toes. It was again interesting to see how much she was reacting to the feathers.
Soon having a number of feathers stacked up upon her body, I took the "Horse" brush, and was going up along her arms. Especially focusing on her underarms, belly, and breasts.