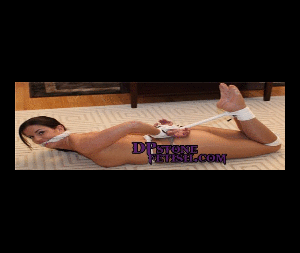 10:43 video
Unique, was began with this set being more of the harder aspects of the Stone Fetish Toy Chest, in this case the Lighter Stone Fetish Flogger, which was used upon her breasts, she was instantly sitting straighter in the chair, and she was also holding her breath a litttle more so than before. When I used the Flogger upon her bottom she was counting down the number of hits.
Unique, was now being prepared for her first Escape Challenge, with the black catsuit I decided to use the Red ropes, which seemed to be a perfect contrast to her outfit. She was totting about how great her escape skills are, and that she was not looking forward to having her catsuit cut off of herself.
I placed a thin cleave gag, of cloth, between Unique's lips, and completed the bind. I actually used a new bind with her, in that I also did a rope near the base of her arms to add to the challenge.