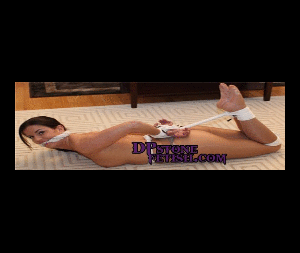 14 photos; 11:32 video
Lucy, was needing her ankles freed so I took a few minutes break to free her ankles, and remove her rather soaked undergarments. She was just once more sinking deep into her sub space realm and not really wondering about anything else.
When I found out that Lucy, had already shaved herself, I left the wireless Hitachi near her, as I told her that I was sorry that I missed another chance at shaving her, but she wasn't too worried about that any longer as the wireless Hitachi was making her forget anything in the room.
When the clover nipple clamps were applied, she again barely noticed them, instead focusing on the Hitachi, and very soon there was more wetness to adorn the rug.