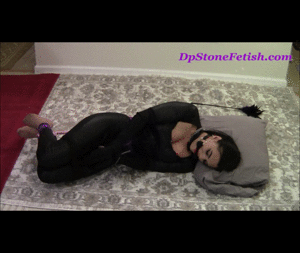 11:03 video
When Lucy, began her Escape Challenge, she did so with a rye smile, and laugh upon her face. As she truly thought that there was no way out of this bind for her. When I returned to the room I was indeed impressed with how she was trying to work out the how's and why's of her position.
In the end Lucy, did indeed give up on the Escape Challenge, and I assisted with her in the defeating of the challenge. It was indeed good to see that she once more struggled fitfully as she was awaiting the removal of the binds.
It was then that I started asking Lucy, what binds she wanted removed next, and she was again dictacting what ropes were going to be coming off next.