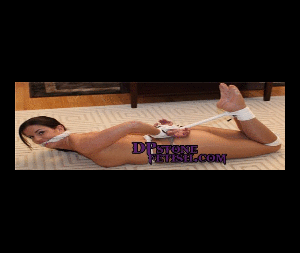 10:09 video
Once Lucy, was on her back, ropes holding her limbs, I revealed her padded black bra beneath her catsuit, and even though she was in her submissive mode she still made me aware that of the pair of items available it was the flogger that was her preferred choice of toys to be using.
Sometimes, I really prefer to use just one color of rope(s), but in the case of Lucy, adding more colors to her bondage seems to be just the right course of action, so it was the purple that were about her ankles, along with her waist, while the black was holding her wrists, at this point some pink just seemed to be right.
Thus it was time for Lucy, to feel the Kobe Lee position for herself.