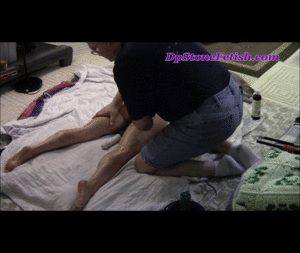 17 photos; 12:38 video
Mistress Claire, was now being prepared for the last set of the shooting day, plenty of Grape Seed Oil, and massaging of her legs would soon lead towards more candle wax along with the Hitachi.
As an added bonus, I was keeping Mistress Claire, up slightly on the Hitachi, as I was using the riding crop upon her buttocks, feet ,and then creating extra sensations as I brought the edge of the riding crop along her limbs.
The combination of the Hitachi, and flogger upon her upper back brought more interesting sounds from Mistress Claire.