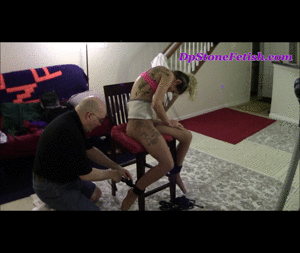 13 photos; 10:32 video
Garnet, was telling me some stories from her past, which certainly earned her more considerations for the Secretary position, however; seemed quite scary when put into the context of the challenge, and I decided to assist her in the freeing of the binds. Thus ending the Challenge.
Garnet, was now freed of the Chair Bind, as I had her standing up facing the chair, discovering that she indeed had a hole in the Pantyhose, she was going to be dinged for having torn her hose, but she seemed to think that Stone Fetish was responsible?
Garnet, was next giving the choice of what her next position should be, and she seemed to instantly take the floor along with the warm blankets.
This set features, Blond, Pantyhose, Secretary Fetish, Fetish Clothing, Sensation Play, High Heels, Rope Bondage, Dry Brush, Lingerie, Fingernails, Flogger, Stripping, Escape Challenge, Tickling, Bondage, and Sensual Domination.