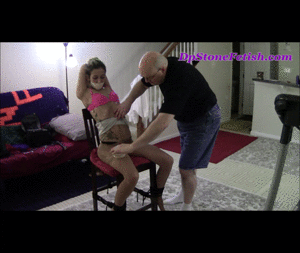 7 photos; 11:50 video
Garnet, had lost her top, but had completed the first Escape Challenge, however; keeping her in bondage truly seemed like the better option at this point. I next started using the Dry Brush on her, this brush is great for the skin, and the models for the most part love it. For the most part (hint)
Garnet, was able to get through the cloth Cleave Gag, so that it was time to change the gag to the Micro Foam tape, this gag didn't stifle the gag talk, nor her abilities to work through her Challenge.
Garnet, was indeed motivated.
This set features, Blond, Pantyhose, Secretary Fetish, Fetish Clothing, Sensation Play, High Heels, Rope Bondage, Dry Brush, Lingerie, Stripping, Escape Challenge, Tickling, Bondage, and Sensual Domination.