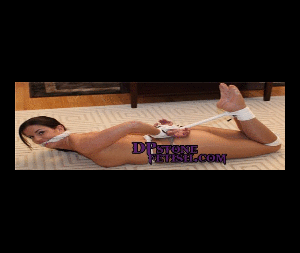 9:49 video
Garnet, was indeed highly sensitive by this point, as I was using the harder sided items within the Stone Fetish inventory, however when I returned to the Feather Ticklers, she was instantly back into a happy zone. I've found this with many of the Stone Fetish models, they seem much happier when the Softer sides come out from the Toy Chest.
Garnet, soon lost both her high heels, as I started working on her feet, and she was instantly trying to hide while also protecting her feet from any further torments with the Feather Ticklers.
It was at this point that I decided to bring out some ropes, and start tying Garnet to the chair. Trust me that was no easy task.
This set features, Blond, Pantyhose, Secretary Fetish, Fetish Clothing, Sensation Play, High Heels, Rope Bondage, Tickling, Bondage, and Sensual Domination.