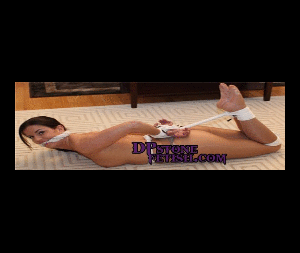 11:07 video
Lucy, really seemed happy with this position, as she was just sinking into the soft covers, and letting herself sense when the next sensation was coming her way, when I decided to remove the pantyhose, I do like cutting things off her, a little clothing destruction never is a bad thing, she did seem to take to the safety scissors being used as a sensation item first. I was in someway surprised to see that she had selected the Red panties, but then again she does like to make a striking statement at times.
Once I cut away most of the pantyhose, Lucy, was indeed playful, as she was attempting to roll onto her belly, she seemed to forget that she was still bound to the table. Ah sometimes the pitfalls of being a fetish model. I of course couldn't forget to play with her feet which were still covered in the pantyhose.
This set features, Black Pantyhose, Rope Bondage, Brunette, Long Hair, Topless, Fetish Clothing, Elbow Length Gloves, Sensation Play, Badger Tail Brush, Fingernails, Groping, Feather Ticklers, Light Sensations, Fondling, and Sensual Domination.