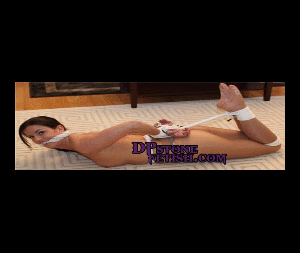 10:24 video
Lucy, seemed to like the idea of a Sensual Massage type of afternoon, it was a great day outside, and it seemed to be a perfect idea for her to be getting herself a nice slow relaxing massage day. I was using all the softer items that are available to Stone Fetish, and it was indeed well received by her. I especially liked seeing the reactions to the Badger Tail Brush, as the bristles match softness, with a rough edge.
As Lucy was indeed feeling quite relaxed, I decided to go ahead and add some ropes into the equation. Placing her into a somewhat relaxing Spread Eagle bind.
Though of course I took my time with the Spread Eagle, using the Rope ends to tease Lucy more so, before moving onto the next bind.
This set features, Black Pantyhose, Rope Bondage, Brunette, Long Hair, Topless, Fetish Clothing, Elbow Length Gloves, Sensation Play, Badger Tail Brush, Fingernails, Groping, Feather Ticklers, Light Sensations, Fondling, and Sensual Domination.