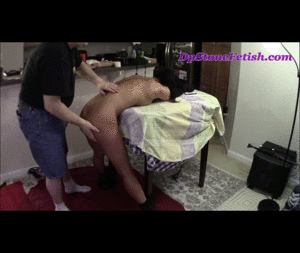 12:42 video
Lucy, was still bent over the table, I have to hand it to her, she is really a trooper, as I'm sure that she would have rather been laying atop the table instead of standing astride it, I was taking my time working the Grape Seed Oil into her skin, as I was thinking about another round of the candle wax, and beside the oil looks very good on her skin.
In this position Lucy, was indeed, struggling with her feelings, as the Hitachi, was being used, and her legs stretched out. But she was struggling with her balance and focus, it was indeed a perfect time for Edging her.
After the Hitachi, was done with it's work, I next moved Lucy, to a better position for her, letting her lay atop the table top, of course I placed the Hitachi once more between her thighs, letting her use (or attempt to use her feet) to hold the device in place. I added some Micro Foam tape, to ensure that she wasn't too overly loud.
This set features, Rope Bondage, Brunette, Long Hair, Nudity, Fetish Clothing, Boots, Candle Wax, Elbow Length Gloves, Clover Nipple Clamps, Sensation Play, Fetish Clothing, Boots, Hitachi, Intense Erotic Orgasm and Denial, Edging, Fingernails, Grape Seed Oil Massage, Micro Foam Tape, Groping, Fondling, and Sensual Domination.