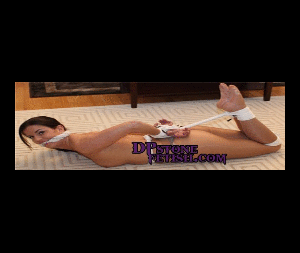 11:03 video
Lucy, was placed into a new position, well at least a new position for her, this time just her wrists were bound, she was still gagged with the large red ball gag, as I was slowly removing the candle wax, I was still trying to stick with all the regular colors that she was most used too, in this case the red, gray, and pink. There's not a really bad color choice with Lucy, and I was indeed taking my time as I was pouring, and drizzling the wax over her body. The best part about her and the wax is when she starts to crinkle her toes, and try to use her feet as a part of the waxing time.
As I've found in the past, with most models, and especially with Lucy is to clean up the old wax off her quickly. As she has a tendency to really move about, and the wax would truly be all over the place. When I gave her the chance to perform an escape challenge she was indeed very much prepared, as when I told her that she could start she was already working her way through the knots. When I say working that means she was gnawing through them with her teeth.
Lucy, like many of the Stone Fetish models, is very cocky when it comes to succeeding through the challenges, and it was fun watching her tossing the ropes all about. When it finally came to her new position, she was able to fidget about, and work through the position as she has done well in the past. I think this new position will indeed be a keeper for her in the future. As it shows of many of her perfect assets.
This set features, Rope Bondage, Brunette, Long Hair, Nudity, Fetish Clothing, Boots, Candle Wax, Elbow Length Gloves, Ball Gag, Sensation Play, Fingernails, Grape Seed Oil Massage, Groping, Fondling, and Sensual Domination.