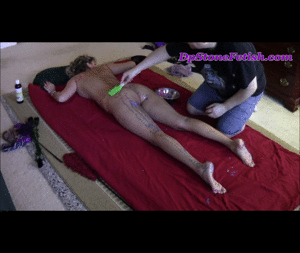 11:19 video
Nikki, as mentioned has become one of the best of the Stone Fetish models, when it comes to the application of the Candle Wax, but it's even more appealing for her when I start to remove it. She likes nothing better than feeling the rubber spatula being dragged across her already intensified flesh.
However, it was now time to use the Candle Wax, upon Nikki's breasts, belly, and thighs. Of course at this point I also brought out the Hitachi, as she was to find out there was something wrong with the Hitachi.
Nikki, was indeed dealing with the sensations of Hot and Cold, as the Candle Wax would indeed heat her up, while the Grape Seed Oil was indeed a Cold Sensation to endure. Streaming Candle Wax was the order of the day.
This set features, Blond, Lingerie, Tickling, Sensation Play, Grape Seed Oil, Latex Gloves, Fingernails, Groping, Fondling, Silk Ties, Intense Erotic Orgasm, Edging, Landing Strip Pubic Hair, Tanned Skin, Multiple Colors of Candle Wax, Squirming, Nudity, Stripping, Buttocks, Feet, Underarms, and Sensual Domination.