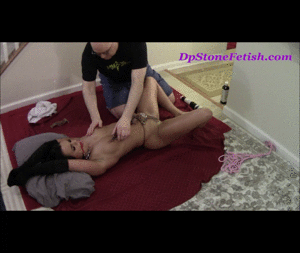 20 photos; 11:22 video
Lucy, was doing her best to maintain herself while holding onto the Hitachi, her feet were indeed getting tired as you could see her muscles spasm, I made things a little more challenging, when I added a pair of clover nipple clamps to her pussy. I left them there only a few minutes as I removed her nipple clamps (the ones actually upon her nipples) and slowly removed the remaining metallic binds.
Once I pulled away the pantyhose, she sighed a happy sigh.
Now with nothing left to impede Lucy, I next brought out some of the Candles, which had been stored in the fridge to make sure that they added another layer of Sensations to her experience, as the Cold Sensations are usually the most intense because of the differences between her warm experiences (candle wax) and the temp of the candles when stored in the refrigerator, soon the Candle Wax would be applied and she was dealing with all the Sensations at the same time.
This set features, Rope Bondage, Brunette, Fetish Clothing, Pantyhose, Tattoos, Stone Fetish Charm, Sensation Play, Underarms, Fingernails, Metallic Pinwheels, Clover Nipple Clamps, Pubic Hair, Leather Boots, Intense Erotic Orgasm, Orgasm Denial, Candle Wax, Edging, Body Oil, Massage, Micro Foam Tape, Groping, Fondling, Flogging, Sensual Domination, Struggling, and Feather Ticklers.