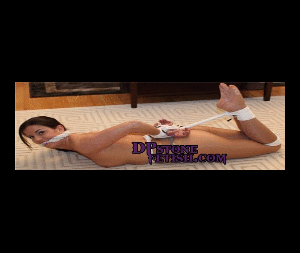 11:26 video
Lucy Lane Is She a Mistress (Pt4)
Lucy, was now properly gagged with the Red ball Gag, as she was feeling more of the Body oil being applied, and her Booted feet were bound with the formerly worn pantyhose. Nothing better than applying a pantyhose bind to her, especially when she used to be wearing them.
After the application of more body oil, I proceeding with another round of the Hitachi Time, I even tested her at a few points to see if she were indeed able to support the device on her own, and soon it was time to remove her boots. Seeing if her feet were indeed sensitive. I think you'll see for yourself just how sensitive and ticklish her feet truly are.
Towards the end of this set I came up with a bind that would truly be a challenge for Lucy, not only adding back the Nipple Clamps, adding more of the torn pantyhose, and finally applying the Hitachi once more.
This set features, Rope Bondage, Brunette, Fetish Clothing, Pantyhose, Tattoos, Stone Fetish Charm, Sensation Play, Underarms, Fingernails, Metallic Pinwheels, Clover Nipple Clamps, Pubic Hair, Leather Boots, Intense Erotic Orgasm, Orgasm Denial, Edging, Body Oil, Massage, Micro Foam Tape, Groping, Fondling, Flogging, Sensual Domination, Struggling, and Feather Ticklers.