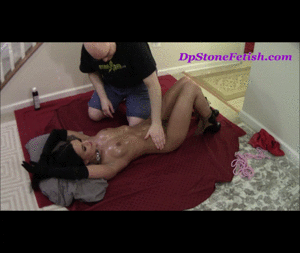 11:17 video
Lucy Lane Is She a Mistress (Pt3)
Lucy, was now feeling much more comfortable on the floor, she had her favorite pillow, and as we discussed she was indeed needing a bit of service from the Stone Fetish Grooming services. As her pubic hair had indeed been growing in quite nicely during her time away from the studio.
Very soon a fresh coating of the body oil was covering not only her legs, bottom, thighs, but now also her breasts, belly, and pubic area. I brought out the Slapper Crop, and she seemed to be much happier when I once more brought out the Light Flogger. Well you do have to make the mistress happy now.
Of course Lucy, was a great deal happier, when I also brought out the newest addition to the Stone Fetish inventory, the Wireless Hitachi, this device has gained a great deal of pleasure from the Stone Fetish mistresses, and soon Lucy was starting to move to the new beat.
This set features, Rope Bondage, Brunette, Fetish Clothing, Pantyhose, Tattoos, Stone Fetish Charm, Sensation Play, Underarms, Fingernails, Metallic Pinwheels, Clover Nipple Clamps, Pubic Hair, Leather Boots, Intense Erotic Orgasm, Orgasm Denial, Edging, Body Oil, Massage, Micro Foam Tape, Groping, Fondling, Flogging, Sensual Domination, Struggling, and Feather Ticklers.