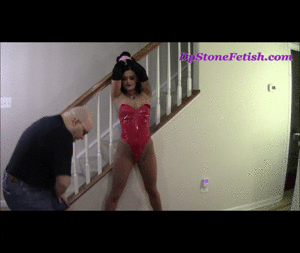 14 photos; 11:08 video
Lucy Lane Is She a Mistress (Pt1)
Lucy, was now feeling the Pantyhose being torn apart, clothing destruction has always been a staple among the fetishes on display at Stone Fetish, and when she felt the pantyhose being torn, she just gave out a soft sigh, and kept her eyes close for what was upcoming.
Of course with perfect breasts, and nipples I couldn't bypass applying the Clover Nipple clamps onto Lucy. As she was groaning a bit, I next added something new again to the Stone Fetish inventory, some Micro Foam tape, this tape has been a great addition, and she truly wears the tape (and well almost anything) perfectly.
After the removal of the Clover Clamps, I again brought out the Flogger, and applied this to her breasts along with her nipples. Finally a new Brush was used on her skin, something that Mistress Kelly Moore recommended to all the Mistress's at Stone Fetish, and again as I was to find out Lucy preferred other Sensation items. All in a day's learning with her.
This set features, Rope Bondage, Brunette, Fetish Clothing, Pantyhose, Tattoos, Stone Fetish Charm, Sensation Play, Underarms, Fingernails, Metallic Pinwheels, Micro Foam Tape, Groping, Fondling, Flogging, Sensual Domination, Struggling, and Feather Ticklers.