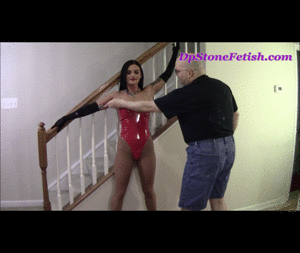 9 photos; 10:57 video
Lucy Lane Is She a Mistress
Lucy, has always been proud of herself, in that she's always seen herself as being a Mistress, and yet whenever she comes to Stone Fetish she finds herself craving more of the Submissive side of things. As this set started out, she was wearing a new clothing item to the Stone Fetish closet, a Red Bodysuit, Black Long Elbow Length Gloves, and the Stone Charm about her neck.
I quickly started things off with the Sensation Time for Lucy, letting her experience the Metallic Pinwheels upon her legs, arms, and along her buttocks. With her body stretched out as it was, she made for a desirable target and I started next by bringing out the Light Stone Fetish Flogger. As I was to find out later in the day, how much she really prefers the Flogging over many of the other Sensation items available.
However; all the Sensations that abound at Stone Fetish, cannot hold a candle to the lovely Lucy being tied up with some of her favorite Pink Ropes, though she has many sides to herself, she truly loves when the simple application of the pink ropes star, as she can usually start settling into the upcoming position.
This set features, Rope Bondage, Brunette, Fetish Clothing, Pantyhose, Tattoos, Stone Fetish Charm, Sensation Play, Underarms, Fingernails, Metallic Pinwheels, Groping, Fondling, Flogging, Sensual Domination, Struggling, and Feather Ticklers.