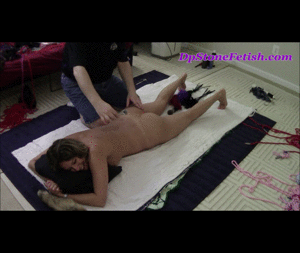 11:18 video
Nikki Brooks - It's Time for Wax
Nikki, is one of the few models that I've worked with at Stone Fetish, that truly looks forward to the Candle Wax, as I tempted her with the Metallic Pinwheels, she was indeed just waiting for the Candle Waxing time to begin.
All it entailed was a slight moving of Nikki, and her attitude changed quite quickly. Right at the mention of the Candle Wax, she literally leaped at the chance of enduring another round of Candle Wax. With the Hitachi teasing her as well.
Nikki, was being coated with two colors, the Purple, and the Gray. Neither looked bad on her, and she was just delighting in the Waxing Time.
This set features, Lingerie, Blondes, Sensation Play, Sensation Items, Badger Tail Brush, Underarms, Earlobes, Shaved Armpits, Fingernails, Nudity, Sensual Massage, Metallic Pinwheels, Foot Massage, Foot Play, Tanned, Groping, Fondling, Candle Wax, Intense Erotic Orgasm, and Domination.