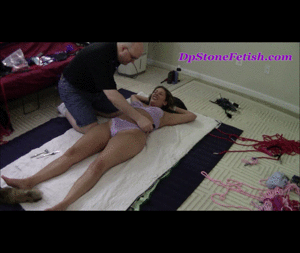 23 photos; 11:19 video
Nikki Brooks - A lot of Purple(Pt1)
Nikki, was giggling out loud, as the Feather Ticklers were being run along the breadth of her body, and very soon a playful few grunts and snorts were escaping her nose. Not that she would admit that. When I next started using the Badger tail brush, it had a more calming effect upon her, even though her feet were clearly starting to spasm at the intrusions of the brush.
When Nikki, had her panties removed, I started using the Floggers, as the Washing Effect, which is bringing them both over body, in the same manner as a car being washed, and in her case she made the point quite well as I soon tickled her neck with the ends of the Heavy Flogger.
With Nikki, it's easy to find news ways to use the Sensation items, as she loves just being in an exposed and open position, and able to experience every new sensation that comes her way.
This set features, Lingerie, Blondes, Sensation Play, Sensation Items, Badger Tail Brush, Underarms, Earlobes, Shaved Armpits, Fingernails, Nudity, Trimmed Pubic Hair, Tanned, Bejeweled Belly Button, Rose Feather Ticklers, and Domination.