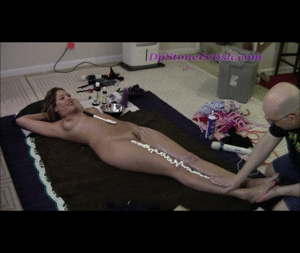 16 photos; 12:15 video
Nikki Brooks - Gets herself Waxed Heated(The End)
Nikki, was dealing with the Whipped Cream, as was also showing how hard her Nipples had become, while I was working on her legs, the coldness of the Whipped Cream was really having an effect, and soon she was coated from her lower body down with the cream.
Nikki, even made the suggestion that it was time to warm her up, in this case using the Red Candle Wax, with the warmth of the Candles touching her flesh, against the chilling sensations of the Whipped Cream, she was just letting her eyes close, and enjoying the intense sensations that were happening. When I started waxing her toes, she was only to eager to bend her toes up for me, so that I could have more access to her feet. When the next Stream hit her thighs, she was once more letting her eyes close, and she just was enjoying the wax.
Nikki, was quick to remind me that before I could do her next peeling that I had to first, run the Gray Candle Wax along her legs, and she was quite happy to feel the Stream once more. She did indeed have another good suggestion, and it is something that I'll have to be thinking about for the future.
This set features, Lingerie, Blondes, Candle Wax, Sensation Play, Sensation Items, Badger Tail Brush, Underarms, Earlobes, Shaved Armpits, Fingernails, Bejeweled Belly Button, Rose Feather Ticklers, Sensual Massage, Nudity, Edging, Wet and Messy, Whipped Cream, Submissive Training Positions, and Domination.