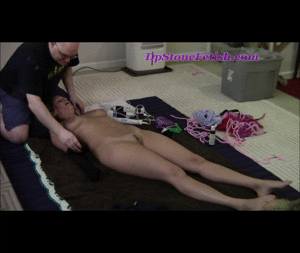 11:24 video
Nikki Brooks - Gets herself Waxed Heated
Nikki, having completed the prior Challenge, now was ready for what has become her favorite set during her time with Stone Fetish, Candle Waxing, and now with something new Massaging of the Grape Seed Oil prior to the Waxing. Of course I began the set with a little Sensation Time, again something that she hadn't remembered experiencing that of the Key's which cause a great deal of friction for her to endure. Next it was the Badger Tail Brush, which has those rough strong ends, that really bring out the best and worst of Sensations for her to endure.
After the round of Sensation Play, I was next bringing out one of the older Stone Fetish Candles in this case the Light Blue, this candle was actually one that had been pieced together by my candle maker, and he was able to cobble those pieces together into a working candle for melting upon Nikki's body. With the Hitachi, one of the new additions at Stone Fetish, this time a 4 Speed Hitachi, along with the Candle Wax, she was moving her hips, and thrusting up against the device as I was moving the Candle all over her chest focusing on her belly, and breasts.
I also found another sensation associated with the Candle Wax that Nikki, does enjoy, and that is the Long Wax Stream. In which a larger amount of Wax is allowed to pool up, and when it is released this large "pool" of wax pools up in one spot upon her body.
This set features, Lingerie, Blondes, Candle Wax, Sensation Play, Sensation Items, Badger Tail Brush, Underarms, Earlobes, Shaved Armpits, Fingernails, Bejeweled Belly Button, Rose Feather Ticklers, Sensual Massage, Nudity, Edging, Intense Erotic Orgasm, Orgasm Denial, Orgasm Control, Submissive Training Positions, and Domination.