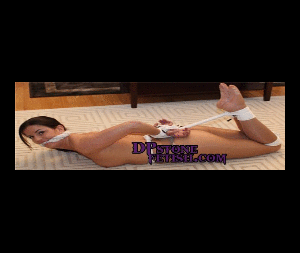 11:46 video
Lucy Lane - Erotic Sensation Time (Pt4)
Lucy, was now in the full hogtie, as I next brought out the leashes, and attached them to her training collar. I was also attempting to make sure that they were warm enough, but in this case they might have still both been on the colder side of things.
Lucy, also did a great deal of squirming as I was having her move about atop the sheepskin rug, as I brought her pantyhose back up to her waist, and counted down the number of ropes that she was currently bound up tight with. As I next added another bind to the predicament.
Lucy, was now placed into the full escape challenge bind, and a gagged was placed between her lips. However; it was quick to see that she wasn't going to be winning this challenge. You'll never guess what her payment was going to be for this loosing effort.
This set features, Pantyhose, Fetish Clothing, Brunette Hair, Pantyhose, Training Collar, Sensation Play, Topless, Sheepskin Rug, Metallic Pinwheel, Tickling, Underarms, Floggers Heavy and Light, Tattoos, Pink Silicon Gag, Cold Sensations, Clothing Destruction Pantyhose Torn, Intense Erotic Orgasm, Edging, Hairy Pussy, Groping, Rope Bondage, Fondling, Stone Charm, Domination, and Sensual Domination.