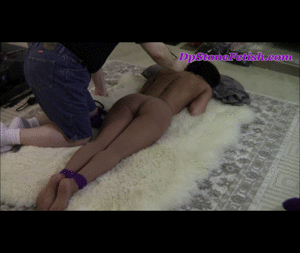 11:01 video
Lucy Lane - Erotic Sensation Time (Pt3)
Lucy, had never really had her earlobes, and ears teased with the feathers so this was a completely new experience for her to enjoy. I next had her assume a variant of the Kobe Lee position, which has her on her side, in this case with her arms over her head, instead of down between her thighs as Kobe would do, I was thinking that Lucy was indeed wanting to show off some of her flexibility.
As I was preparing the bind for Lucy, I again thought that I could use the Kobe position later, and in this Challenge she would be placed into a Hogtie. However; this challenge started off with a twist, which was her bringing her pantyhose down to her ankles, without rolling off the Sheepskin Rug. She really did think that was going to be easy. However; was it going to be?
Lucy's bottom by this point was indeed turning red, and I couldn't let that be the only part of her body that would be turned red.
This set features, Pantyhose, Fetish Clothing, Brunette Hair, Pantyhose, Boots, Training Collar, Sensation Play, Topless, Badger tail Brush, Feather Tickler, Sheepskin Rug, Metallic Pinwheel, Tickling, Underarms, Floggers Heavy and Light, Tattoos, Hairy Pussy, Groping, Hand Spanking, Rope Bondage, Fondling, Stone Charm, Domination, and Sensual Domination.