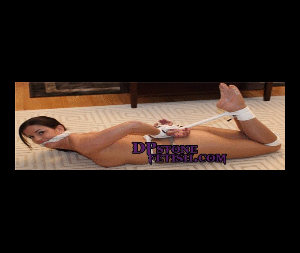 11:22 video
Lucy Lane - Erotic Sensation Time (Pt2)
Lucy, was spread out atop the Sheepskin Rug, as I was indeed testing her sensitivities out to this point with the "good" and "bad" sensations. The feather ticklers, were indeed well received by her, as she was letting her belly rise up and down, with each passing of the feathers across her bare upper body. The feathers are truly an amazing sensation play item, and I'm pleased that Stone Fetish makes sure to have many in stock at all times.
After using the ostrich feathers upon Lucy, I next switched things up and used the Floggers in a completely different manner, using them in a light washing motion across her breasts, focusing especially upon her nipples. Soon having all three of the Floggers in place upon her body.
I next had Lucy, rolling over onto her belly, to prepare her for an upcoming Hogtie, but of course before I did that I decided to test her sensitives to the ends of the Ropes. I also soon found out how ticklish her feet truly are?
This set features, Pantyhose, Fetish Clothing, Brunette Hair, Pantyhose, Boots, Training Collar, Sensation Play, Topless, Badger tail Brush, Feather Tickler, Sheepskin Rug, Metallic Pinwheel, Tickling, Underarms, Floggers Heavy and Light, Groping, Rope Bondage, Fondling, Stone Charm, Domination, and Sensual Domination.