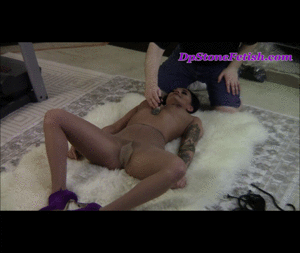 10:59 video
Lucy Lane - Erotic Sensation Time (Pt1)
Lucy, was indeed pleased with herself, when I informed her that she had completed one set with Stone Fetish, and as a reward it was time to allow her the chance to experience some of the many sensations that are available at Stone Fetish.
After starting Lucy, out with the Badger Tail Brush, which many of the models have very much enjoyed at Stone Fetish, it was time to go with something that might be seen as a little harder, in this case the Multi-headed Metallic Pinwheel, and this would truly be an interesting reaction from her.
Lucy, was in a giggling state, as the final Pinwheel was brought over her body, the single headed pinwheel this time, and she was indeed tested each time I brought the pinwheels over her armpits.
This set features, Pantyhose, Fetish Clothing, Brunette Hair, Pantyhose, Boots, Training Collar, Sensation Play, Topless, Hand Spanking, Badger tail Brush, Metallic Pinwheel, Tickling, Underarms, Groping, Fondling, Stone Charm, Domination, and Sensual Domination.