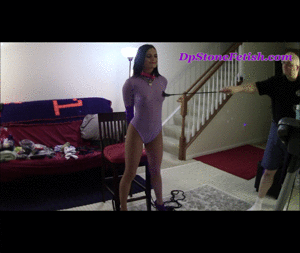 11:22 video
Lucy Lane - Erotic Sensation Time
Lucy, was now going to be getting the first fallout from the effect of loosing an Escape Challenge, so I was planning on starting her off with the Riding Crop, which took a few minutes as she was indeed tensing up before the Cropping started. When I told her that Mistress Nikki Brooks, had repaired the Riding Crop, Lucy was a little less than fond of Mistress Nikki at that point.
When I next gave Lucy, the option of using the Hitachi, or the Riding Crop on her inner thighs, she instantly choose the Hitachi. As I next started running my fingernails over her Purple bodysuit, as I also replaced the Pink silicon gag back between her lips, before starting off with the Wireless Hitachi at the Second Level.
Something that I had done with Lucy, in the past was recreated here, when I did the Standing Orgasm with her, and at one point she even lost her balance from the intensity.
This set features, Lingerie, Fetish Clothing, Brunette Hair, Pantyhose, Boots, Rope Bondage, Riding Crop, Training Collar, Sensation Play, Hand Spanking, Standing Orgasm, Hitachi, Intense Erotic Orgasm, Groping, Fondling, Stone Charm, Domination, and Sensual Domination.