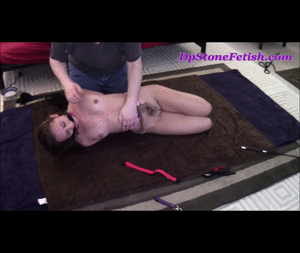 13:24 video
(FTA) Ashlynn Taylor - Long Term Bind(Pt10)

This set was shot a few years back, with Ashlynn Taylor, and she was just starting out in the fetish/bondage content. In this case she was indeed in her element, as she was stripped of her fetish clothing, and left with just her black opera gloves. Which she very much took a liking too.

Ashlynn, was indeed happy when I placed a pink/black training collar about her neck, and she even chuckled slightly when I commented about her being back in a hogtie. She even was telling me how she would be able to endure the hogtie. I of course ended up adding a few more items, the leash, alligator nipple clamps, and continuing my fondling/groping of her bound body.

I had a chance to edit this video, and present it in a higher format so please enjoy this newly released video.

This set features, rope bondage, brunette hair, long hair, flogging, alligator nipple clamps, nudity, pantyhose bondage, pantyhose cleave gag, training collar, groping, fondling, manhandling, buttocks, training positions, sensual massage, sensual domination, and domination.