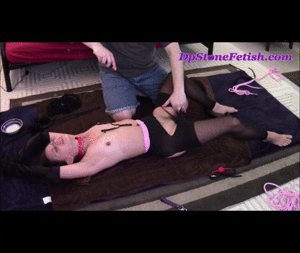 11:41 video
(FTA) Ashlynn Taylor - Long Term Bind(Pt8)

This was a set that was shot a few years back, and featured the lovely Ashlynn Taylor. She was a great model to work with, and was really just getting used to fetish/bondage work at that time. As you will see she really took to the content quite well, and I was very happy to have had the chance to work with her.

This video has been edited, and formatted at a higher definition level showing off Ashlynn in a much better light.

This set features, rope bondage, brunette hair, long hair, hairy pussy, pussy slapping, alligator nipple clamps, sensual massage, sensual domination, topless bondage, clothing destruction -pantyhose, submissive training, groping, fondling, manhandling, pantyhose gag, cleave gag, nudity, and domination.